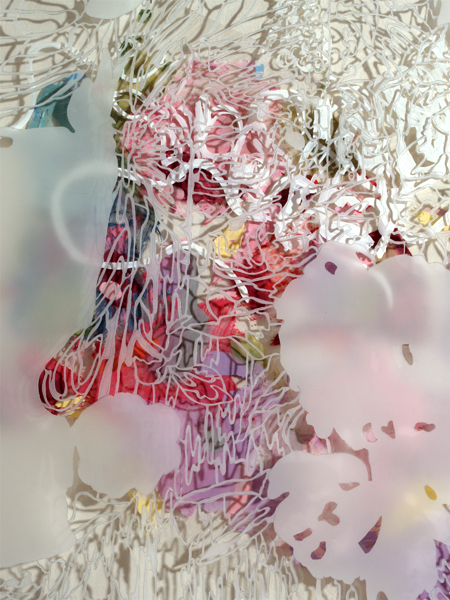 Projects Gallery proudly announces "Bloom", the inaugural solo exhibition of mixed-media artist Margery Amdur. Well known for her impressive, layered, three-dimensional acrylic resin assemblages, "Bloom" debuts a new series of works that play upon her familiar cut paper and paint-by-numbers motif while utilizing a variety of materials. Rather than the trapped-in-amber solidity of the resin series, these new works are liberated and appear to float freely. Layers and layers of petal-delicate Mylar and acetate conceal and reveal paint-by-number floral imagery. The labor-intensive process is as important to the work as is the final product, and it is the tension between the materials and the decidedly feminine imagery that captivates the eye. Although wall-oriented, Amdur constructs the pieces in "Bloom" in a manner similar to her renowned installation process. According to Amdur she " . . . never wanted to be a flower painter. I always associated it with Sunday painters. I must now reconcile this with how often floral imagery is central in my work." "Bloom" is truly the blossoming fruition of a sophisticated body of work.
Drawing from the perceived separation of art and craft, Amdur explores her interest in multi-dimensional structure. She draws upon a wealth of materials, including frosted Mylar, clear acetate, acrylic paint, transfer images, paint-by-number canvas boards, bees wax and resin. Through her skillful hands, the materials are recontextualized, as the artist enlarges and abstracts her deceptively familiar templates. Playing with transparent and translucent, the pre-existing image and the vision of the artist, Amdur takes the traditional form of painting and expands its definition to embrace greater issues within the contemporary dialogue. Through the veiling of layers, a tension is created between the abstract and representational; and the artist's meditative working process emanates throughout. The resulting images are visually seductive moments frozen in time.
This is the first completely new body of work created since the artist's relocation to Philadelphia four years ago as she has been ehibiting throughout Europe. Margery Amdur received her B.F.A. from Carnegie-Mellon University and her M.F.A. from the University of Wisconsin in Madison. She has exhibited in over 50 solo and two-person exhibitions and has appeared in numerous group shows. Her international exhibitions include venues in Turkey, Hungary and England. The artist is the recipient of more than a dozen awards and grants and has been reviewed in several national and international publications, including Sculpture Magazine and New Art Examiner.
Bloom will open First Friday October 3rd. There will be an artist's reception First Friday November 7th 2008 from 6-9 p.m. The show will continue through November 15th, 2008. The opening and reception are free and open to the public. Gallery hours are Wednesday & Thursday 4 -7 p.m. and Friday & Saturday noon to 7 p.m.