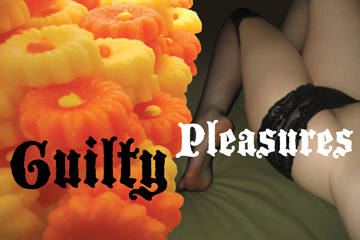 In its premier exhibition based on an open call to artists, Projects Gallery presents "Guilty Pleasures". Through nation-wide solicited submissions, entrants were encouraged to expand upon the literal and interpretative theme as seen through their individual style. Utilizing a variety of media, including painting, photography, sculpture and works on paper, this vast array of artists has met Projects Gallery's challenge.
Wintry February is often considered the month of love. "Guilty Pleasures" considers the many facets of "love" - physical, emotional, psychological, religious, addictive, personal and public. Pleasure can be that which is desired, that which we love to hate or that which elicits passion in any direction. What makes it guilty is certainly open to self-interpretation.
Curated by gallery director, Helen Meyrick, "Guilty Pleasures" encompasses artists in all stages of their career, from students to mid-career, self-taught to master degreed and unknown to internationally exhibited. Representing more than a dozen states and all four corners of the nation, artists include: Atticus Adams, Bill Bahmermann, Andy Bloxham, Craig Cully, Gary Duehr, Brooke Holloway, Roger Carl Johanson, Cara Jung, Katie Latona, Jonathan Levy, Sean Michael Lyman, Kellianne McCarthy, Rob Millard Mendez, John "sleepy" Moran, qi peng, Max Seckel, Tracy Stuckey, Jack Thompson, Mat Tomezsko, Jennifer Weigel, Jean Reece Wilkey and others.
Due to the adult nature of the exhibition, viewer discretion is advised.