Jack Thompson
"Re-Visonary Mythology"
March 31 - May 1, 2010 Projects Room
Projects Gallery is pleased to present Jack Thompson in his second solo exhibition at the gallery of his evocative painted ceramics. Entitled "Re-Visionary Mythology", on display will be works from the artist's zodiac series as well as other works of hybrid origin and meaning in a site-specific installation. Ceramicist Jack Thompson is well known for his personal interpretation of imagery that spans cultures and religions, searching for universal expressions of the corporal and spiritual. Melding the symbols from disparate cultures, Thompson's creations tap into the collective unconscious.
According to Glen R. Brown, Thompson "found credibility in the assertion that archetypes have exerted a clandestine influence over the content of art and myth across the centuries and around the world. Consequently, his research interests have included everything from the Egyptian Book of the Dead to the Mayan Popl Vuh, and he has traveled the globe in search of symbols that might indicate, through their curious parallels, a shared origin in the recesses of the human mind. For Thompson, ensconced within the stuff of myth lies powerful evidence that humanity possesses a common psychological core and therefore a basis for deeply meaningful communication, despite the bewildering disparities that exist on the surface between cultures"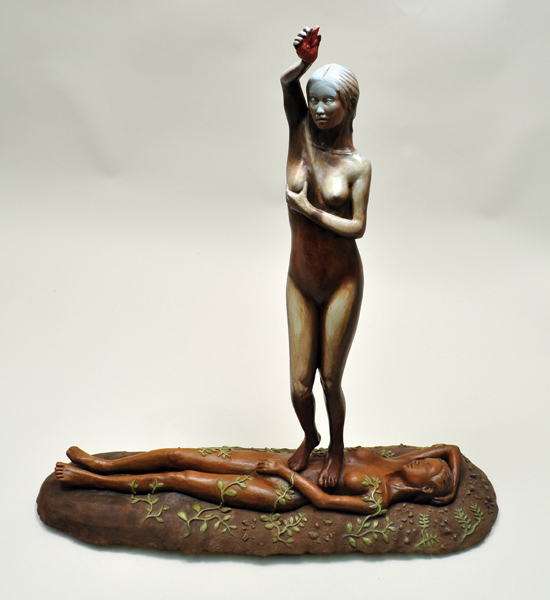 Jack Thompson
"Reflections on the Zodiac"
November 4 - 27, 2005 Projects Gallery
Projects Gallery presents Jack Thompson in a solo exhibition of evocative, painted ceramics. This artist's inspiration stems from an enduring interest in mythology, religion and symbolism. "Reflections on the Zodiac" is an expansion of his continuing experimentation with these topics. Thompson has taken his ceramics to a higher level with these magnificently expressive representations of the celestial sphere. His sculpted clay has been manipulated into imaginative Zodiac symbols.
Thompson received his M.F.A. from the Tyler School of Art in Philadelphia and has exhibited throughout the U.S., Canada, England, and Mexico, where he was a Fulbright Scholar. He has executed many large-scale commission/installation projects, most notably Caesar's Palace in Las Vegas and Fairmount Park and Penn's Landing in Philadelphia. His work has been featured in twenty publications discussing the techniques of ceramic and clay sculpture.