Caleb Weintraub
"Things that may or may not go on in the dark, in the night"
May 1 - 30, 2009 Projects Room
Projects Gallery is excited to announce the second solo show by artist Caleb Weintraub "Things that may or may not go on in the dark, in the night". Showcasing a whole new body of mid-sized oil paintings, these works are the latest in the artist's ongoing mythology and social commentary. Weintraub presents images of mysterious, barren, tree-littered landscapes with patchy ground cover, revealing an underground of vibrant streaks of color, atop which the children enact secret ceremonies. Featuring the enigmatic motif of owls with paint-chip wings, their presence is the new focus of this chapter of the ongoing story.
Weintraub is an exceptionally gifted artist who also provides a unique visual experience in his fully realized alternative world. The constantly progressing narrative in Weintraub's art is one of the most arresting elements of his oeuvre. In this envisioned reality, children have rebelled against the permissiveness of their supposed protectors. The first of these paintings were shockingly graphic and violent. They evolved into more oblique sublimation of adults through ridiculous uniform and theater and the cult of children in masks and sumptuous costume. Once suitably chastened, the child subjects began constructing a fantasy world and battling a new enemy - paint itself. Wrestling and mutilating gobs of paint salvaged from the artist's palate, the children turned from attacking their world to destroying the medium used to create the environment. In the current body of work, these children have shed the anonymity of paper masks and appear linked with a new totem, the owl. The meaning of this icon and whether they desire to raise it up or destroy it remains a mystery to be pondered by the viewer. Although, as the artist himself has stated, "in any case, the children in my paintings are not actually children. They've always represented more the future than actual beings."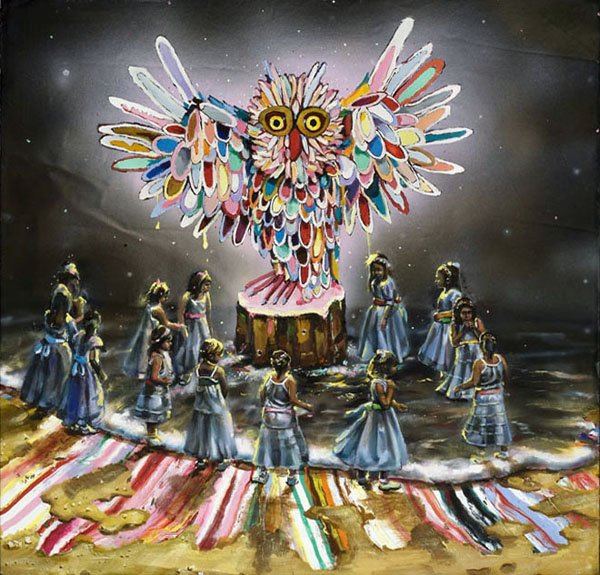 Caleb Weintraub
". . . with the bathwater"
September 1 - October 29, 2006 Projects Gallery & Projects Room
Projects Gallery presents its season premiere show ". . . with the bathwater" featuring the works of artist Caleb Weintraub. Weintraub deftly presents images of societies populated by destructive toddlers caught in an annihilisitic spiral.According to guest curator Cheryl Harper, "Weintraub is mesmerized by the lack of moral compass in today's children. He presents a "what if" scenario . . ." crafted in the colors and materials associated with youth and innocence, depicting surreal and horrific scenes enacted by children.
Weintraub's works are not just about the shock value. Nor are they about the materials used to depict these scenes. They are about the underlying moral commentary of the hyper-violent next generation, the celebration of destruction, and militant children sucked into the turbulent conflicts of their elders. Vastly relevant and expertly rendered, Caleb Weintraub's "…with the bathwater" is guest curated by Cheryl Harper.